Everybody knows that credit cards are the number one enemy in every house across the country. But there's a way to make them an ally to your financial health: do you know what is cashback?
Cashback reward programs are getting more and more popular among consumers of all classes and ages. If you've recently walked into a supermarket, a grocery store, or any shop whatsoever, certainly you saw lots of products offering this option.
There's a reason for this: reward programs are a good idea to stimulate consumption and provide other benefits to clients. Even though this can make you a bit suspicious, it's not a bad thing. In fact, cashback can be used as a strategy to help you save money and take better control of your spendings.
In this post, we'll teach you what is cashback and everything you need to know about reward programs to start using this tool in your favor and improve your financial health. Let's go!
What is cashback
Cashback reward programs (simply known as cashback) are incentive plans created by credit card companies where a certain percentage of the amount spent is paid back to the buyer.
This idea has been around since the 90s. Back then, credit card companies would offer a 5% return on every purchase made at grocery stores, pharmacies, and gas stations, within a limited period.
Over the years, these programs evolved into different formats and categories. However, one common feature among them is that they always appear during moments of economic recession as a way to encourage more consumption, as well as customer loyalty. 
So, by understanding what cashback is and how it works, you can use this option without any problem. Therefore, we'll teach you about the most interesting categories of cashback cards!
Categories of cashback cards
The first thing you must've in mind is that there are very different options available. They vary in rate return, purchase categories, and other features. Therefore, it's very important to be well-informed before choosing a cashback card. 
In the following, we'll introduce some of the best categories of credit card with cashback available in the market. This will help you in choosing the best option for your needs.
Flat-rate cards
The flat-rate cards are common, but also very interesting. This category offers a fixed rate return for every qualifying purchase. If you use it for buying groceries, gifts, electronics, or anything else, you'll receive the same cashback percentage — usually around 1-1,5% on all purchases.
Bonus cards
Among the best cashback credit cards, the bonus cards are an interesting category. This option offers higher percentages (around 3-5%) for purchases in specific supermarkets, gas stations, and the like. 
Rotating cards
Rotating cashback cards are a bit different. This option offers higher percentages on certain purchase categories, but these change with a certain frequency. For example, some might offer good rate returns for buying electronics in a period of three months, and then change it to grocery stores.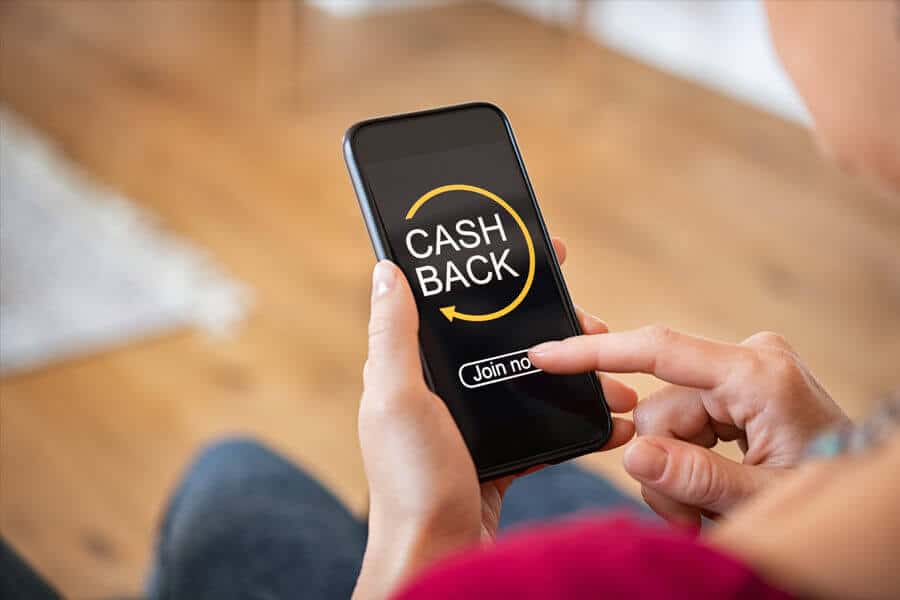 How to choose the best cashback credit card for you
Before choosing a cashback card, consider your preferences, as the best option is the one that suits your buying habits. Now that you know what is cashback, there are some guidelines to help you find an adequate card for your needs.
If you're constantly buying items of different categories, probably a flat-rate card is the best option for you. That's even better if you buy at the same place every time. There are stores that offer their own reward program;
If you buy your groceries, or other items, always at the same establishment, considering a bonus card from that space is definitely a smart option.
You're allowed to acquire more than one cashback card, but always be careful! Most programs demand some fee to activate their plan. Therefore, you must be certain that you'll really use that card;
Make sure that the fees you pay for your cashback program cost less than all the returns you get throughout the month!
How to obtain a cashback credit card
We bet that now you're interested in acquiring your own cashback credit card, right? Don't worry! We're going to teach you what to do to participate in a cashback reward program. The process is quite easy. You just need to go through the following.
Check whether your credit cards already have some cashback reward program. If so, check all the conditions and whether it's beneficial to you;
If you don't have any credit cards, check whether your preferred stores have their own cashback credit cards;
After analyzing all the tips we gave before, choose the credit card that best fits your needs;
Sign up for the credit card;
Sign up and ask to activate the cashback reward program;
Don't forget to check the fees, rate return, and all the conditions of your reward program!
Take care of your financial health!
Now that you've learned much more about what cashback is and how cashback works, you can feel safer in using this tool as an ally to your finances.
Have you enjoyed learning about cashback and how to use it in favor of your financial health? Then, keep following our content! One Blinc is a company devoted to helping people with finding financial solutions to their lives!

About us
Unexpected things happen more often than we would like them to. That's why OneBlinc is here to help, whether you have an emergency or just need that extra cash to go through the end of the month. We believe in people, and we understand that everyone might need money someday, somehow.